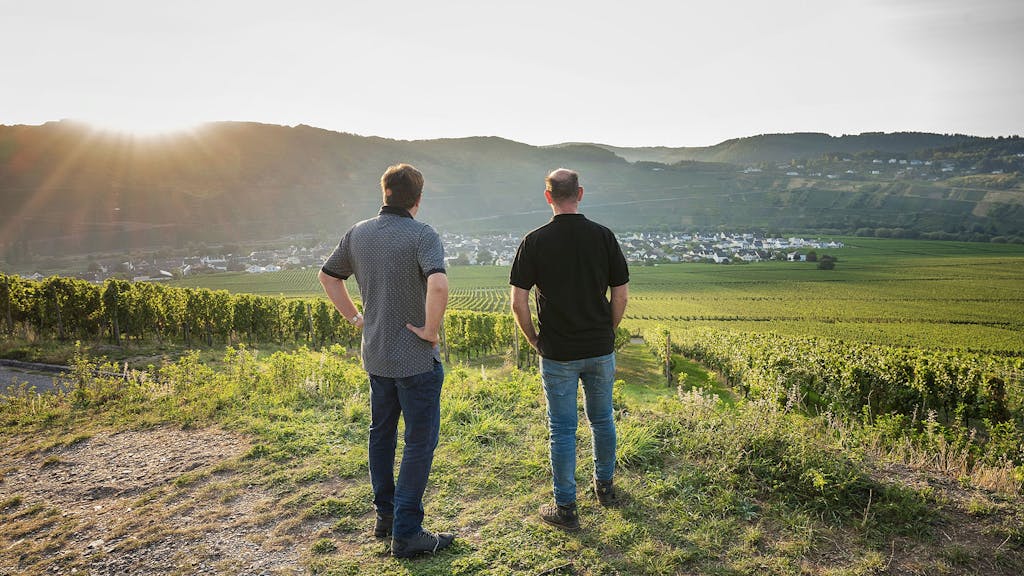 Gebrüder Steffen
Winehouse
Past
The fundament for today's Weinhaus Steffen was set up in 1794. It was Peter Steffen from Piesport who was the driving force behind this and first mentioned the wine house in a document. Around 125 years later, his descendants, the brothers Johann and Peter, built up the wine-growing business, which created the present name WEINHAUS GEBRÜDER STEFFEN. At the time, the winery was still purely a grape producer and farmer, but over the following years, it oriented itself more and more in the direction of a wine house. In 1930, the first batch was bottled under the name "1929er Trittenheimer". At this time, bottling 1,000 litres of wine was a daring step. However, the brothers were able to sell them very successfully in a very short time. Therefore, nothing could stand in the way for the growth of the business.
If you would like to find out how our family history continued and about the various hurdles that had to be overcome, take a look here: DID YOU KNOW? "Timeline"
Present
"We" – Hans Steffen, son Roman and brother-in-law Matthias Dockendorff – now run the winehouse, as members of the second and third generation to do so. Of course, we have the backing of the whole family, as well as the support of our highly committed employees, who have mostly been with us for many years. The tasks are indeed divided up in a relatively clear manner, yet we see ourselves as a modern family business with everyone working together "hand in hand" to get things done.   
Future
With such a strong winegrowing tradition in our family background, going back to at least 1794, permanence is our most important driver. The generations that went before us set the course that put our winehouse on a stable foundation, and we are now carrying their basic principles forward into the years ahead. As we do so, our focus is always on the high quality standards that we set for our wines and our sustainability concept with regard to cultivation. As a dynamic winehouse, we keep our finger on the pulse and enjoy supplying our wines to connoisseurs across the world. We are not just running our business for ourselves, but also for the generations to come. For this reason, we are keen to employ methods that allow us to work in a way that is as sustainable as possible, for example by using our own photovoltaic installation.    
Home
Trittenheim! Situated on a "tongue of land", bordered by the River Mosel and surrounded by vineyards. This creates a marvellous panorama for observers, whichever direction they look in. You could sum up our attachment to our home region with the phrases "deeply rooted" and "we've always been here". Yet despite all this, we are very open to looking farther afield – after all, our wines are appreciated in around 20 different countries. Far beyond the boundaries of the place we come from.
Our wines grow on the steep slopes along banks of the River Mosel, on slate soils that are centuries old. In this location, it's not only the vine that has to fight for water and nutrients with its deep roots, we have to do our utmost too. The result is a lot of manual work and effort. But it is precisely this huge effort on the part of both the plants and the people involved that gives our Mosel wines their inimitable character. 
Collection
An important aspect of our style is the full fruitiness and minerality of our wines, without this having too heavy an effect. The highly unusual play of sweet and sour, which is typical for the Mosel region, makes our wines especially exciting. The Riesling in particular feels very comfortable in our home region: it dominates the cultivated areas of Germany's oldest winegrowing region, with over 60% being used to produce this type of wine and ensures that "our Mosel" is held in high regard across the world.
All our wines bring a clear fruity taste and a natural minerality into focus in the glass. We are proponents of traditional working methods, but we are happy to interpret these with the latest technology in the wine production process. What's important to us is that you can taste where the wines come from.